2023/07/24
Micro Speaker: Components, How it Works & Manufacturing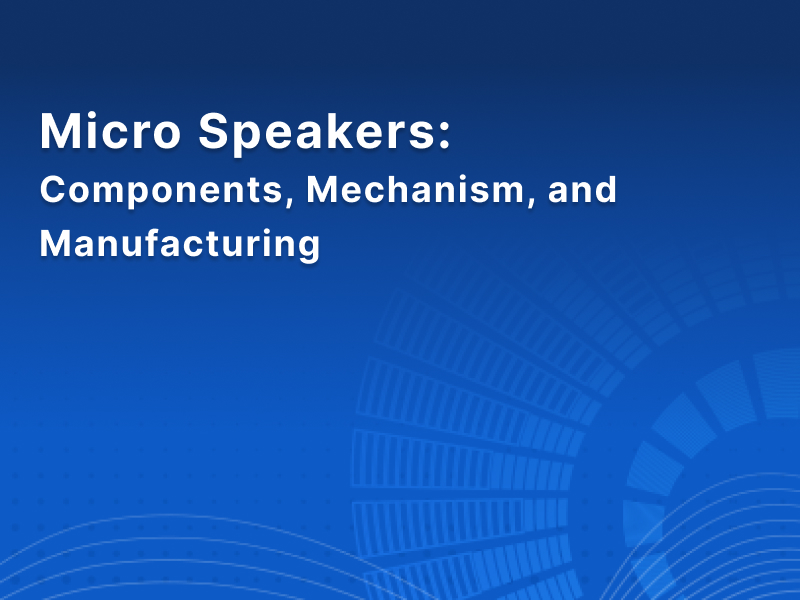 Micro Speakers

Are Not What You Think
Micro speakers have revolutionized the way we experience audio in electronic devices. These tiny yet mighty components play a crucial role in delivering high-quality sound. In this comprehensive article, we will delve into the world of micro speakers, shedding light on their components, mechanism, and the intricate manufacturing process. By the end, you'll have a deeper understanding of these remarkable devices and the role they play in enhancing our audio experiences.
So…

What IS a Micro Speaker

?
Micro speakers are not just your average audio output devices but miniature marvels that pack a punch. The term "Micro-Speaker," a mini or miniature speaker, lacks a precise, universally accepted definition. However, we agree that a micro-speaker is any miniature speaker with a maximum dimension of 20mm or smaller. Comprising several key components, micro speakers differ significantly from their larger counterparts in terms of size and efficiency. Let's explore the essential elements of a micro speaker and understand how they work together to create exceptional sound quality.
What Are The Main

Micro Speaker Components

?
A micro speaker consists of three vital components: the diaphragm, voice coil, and magnet. Each of these elements plays a distinct role in the generation of sound waves, resulting in an immersive audio experience.
The diaphragm serves as the primary sound-producing component. Its lightweight and flexible nature allows it to vibrate in response to electrical signals, converting them into audible sound waves. The voice coil, positioned within the magnetic field generated by the magnet, interacts with the diaphragm to amplify these vibrations. Together, they produce the sound that captivates our ears.
How Does a Micro Speaker Work

?
Understanding the mechanism behind micro speakers is key to appreciating their capabilities fully. Let's explore the fascinating process of converting electrical signals into the delightful sound waves that captivate our senses.
At the heart of a micro speaker lies a complex yet efficient mechanism. When an electrical current flows through the voice coil, it generates a magnetic field that interacts with the permanent magnet. This interaction causes the voice coil and the attached diaphragm to move back and forth rapidly, mimicking the electrical signals and translating them into sound waves.
The diaphragm's vibration creates compression and rarefaction of air, forming sound waves that travel through the air medium and reach our ears, producing the audio we enjoy. This intricate mechanism showcases the precision and ingenuity behind micro speakers.
Crafting

Micro Speakers

: Designing, Prototyping, Testing, and Manufacturing
To bring micro speakers to life, a meticulous manufacturing process is required. Let's explore the step-by-step journey of these components, from conception to completion.
Creating micro speakers involves a series of crucial steps. It starts with the design phase, where engineers meticulously plan the dimensions, materials, and specifications of the components. Prototyping follows, allowing for thorough testing and fine-tuning to ensure optimal performance.
Once the prototype passes stringent quality tests, the manufacturing process begins. This stage involves precision assembly, where each component is carefully integrated, forming a fully functional micro speaker. Quality control measures are implemented throughout to ensure that the final product meets the highest industry standards.
Micro Speaker Suppliers

: Driving Innovation and Quality
When it comes to the production of micro speakers, reliable suppliers play a crucial role in driving innovation and ensuring the delivery of high-quality audio experiences. These suppliers encompass a diverse range of companies that specialize in designing, prototyping, testing, and manufacturing micro speakers.
Micro speaker suppliers are at the forefront of innovation, constantly pushing the boundaries of audio technology. Their contributions are instrumental in enabling the integration of micro speakers into a wide range of electronic devices, including smartphones, tablets, laptops, wearables, and automotive systems.
By partnering with reputable micro-speaker suppliers, manufacturers can harness their expertise and leverage their capabilities to deliver cutting-edge audio solutions that elevate user experiences. These suppliers, with their extensive knowledge and industry experience, are the driving force behind the continuous advancement of micro speaker technology.
Unveiling the Major Players and the Micro Speaker Market:

FHD Electronics Corporation
In the vast micro speaker market, one prominent player stands out: FHD Electronics Corporation. This renowned supplier has made significant strides in the industry, offering a wide range of products and services that cater to diverse consumer needs. Let's explore what sets them apart.
FHD Electronics Corporation has established itself as a reliable and innovative micro speaker supplier. Their commitment to quality, affordability, reliability, and exceptional customer service has made them a trusted name in the industry. With a wide range of micro-speaker offerings, they cater to various electronic devices, from smartphones to wearable gadgets, ensuring an unmatched audio experience.
Why

FHD Micro Speakers

Work
Evaluating Micro Speaker Suppliers: The Importance of Cost, Quality, Reliability, and Customer Service
Selecting the right micro speaker supplier is crucial for achieving the desired audio performance. When considering potential suppliers, it's essential to evaluate key factors such as cost, quality, reliability, and customer service. Let's delve into these critical aspects and understand why FHD Electronics Corporation stands out.
Choosing the Best: Cost, Quality, Reliability, and Customer Service
When it comes to micro speakers, cost-effectiveness should not overshadow quality. FHD Electronics Corporation strikes a perfect balance, providing competitive pricing without compromising on the audio performance. Their commitment to quality control ensures that each micro speaker meets stringent industry standards.
Reliability is another key factor to consider. FHD's micro speakers undergo rigorous testing to ensure durability and long-lasting performance. Moreover, their dedicated customer service team ensures prompt assistance and support, addressing any concerns or queries that may arise.
A Comparative Overview of FHD Micro Speaker Products
To showcase the superiority of FHD Electronics Corporation, let's compare some of their flagship micro-speaker products with competing alternatives.
FHD Micro-Speaker Model

FHD Micro-Speaker Image

Dimensions

L x W x H (mm)

Impedance (

Ω)

Rated Power (W)

Max. Power (W)

S.P.L. (dB)

Resonant Frequency F0 (Hz)

Micro-Speaker in the Market

Other Supplier's Speaker Image

27 x 20 x 7.4

8

1

2.5

82

±3

750

AS02708CO-WR-R

35 x 16 x 6.5

8

0.5

1.0

88

±3

850

GC0351M

Manufacturer: CUI Devices
Wrapping Up: Embracing the Power of Micro Speakers
Micro speakers play a vital role in enhancing our audio experiences in various electronic devices. With a thorough understanding of their components, mechanism, and manufacturing process, we can truly appreciate the craftsmanship behind these miniature marvels.
FHD Electronics Corporation emerges as a leading player, delivering top-notch micro speakers that offer impeccable audio quality, reliability, and exceptional customer service. As the technology industry evolves, the importance of micro speakers in delivering high-quality audio experiences continues to grow. To explore FHD's impressive range of micro speakers, visit our product page for more detailed information. Embrace the power of micro speakers and immerse yourself in the world of premium audio.