2023/07/24
What is a Mylar Speaker: Manufacturer, Size & Dimensions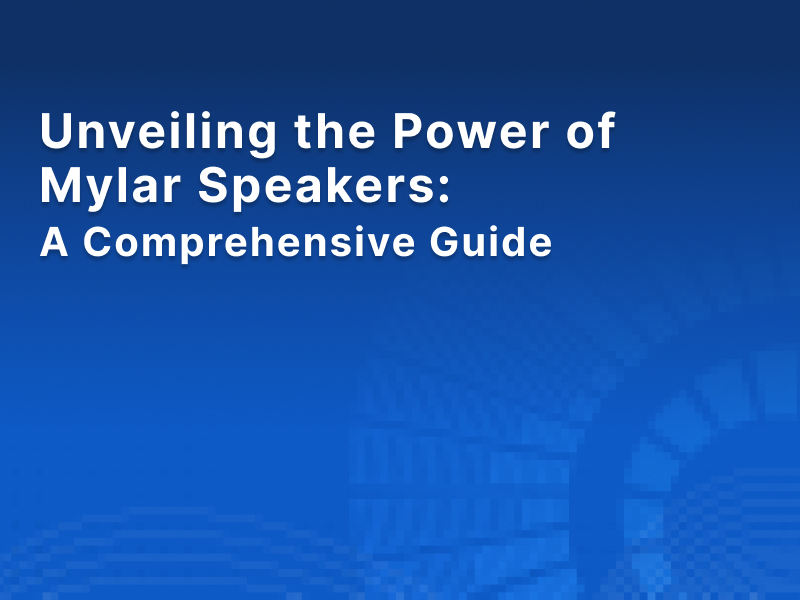 When it comes to audio technology, mylar speakers have made a significant impact in the industry. In this article, we will delve into the world of mylar speakers, exploring what they are, how they work, and their evolution over time. Additionally, we'll discuss the different types and sizes of mylar speakers available, as well as the importance of choosing a reputable mylar speaker manufacturer like FHD Electronics Corporation. So, let's dive in!
What is a Mylar Speaker

?
Mylar speakers, also known as polyester film speakers, are a type of speaker that utilizes a diaphragm made from mylar, a durable and flexible material. The diaphragm is responsible for producing sound by vibrating in response to electrical signals. Mylar speakers are commonly found in a variety of audio devices, including headphones, earphones, and portable speakers.
The material composition of mylar speakers contributes to their benefits. The mylar diaphragm is lightweight yet robust, allowing for accurate sound reproduction and efficient energy transfer. This results in clear and high-quality audio performance. Additionally, mylar is resistant to moisture and humidity, making these speakers durable and suitable for various environments.
Innovative Engineering: Behind the Scenes

Mylar Speakers
Mylar speakers have made a significant impact in the audio industry, earning a reputation for their exceptional sound quality and versatility. These speakers have become a go-to choice for audiophiles and professionals alike, thanks to their ability to reproduce audio with remarkable accuracy and fidelity.
One of the key advantages of mylar speakers is their use of a mylar diaphragm. This diaphragm, made from a durable and flexible polyester film, allows for precise sound reproduction. The mylar material is not only lightweight, but it also possesses excellent rigidity, which enables it to vibrate faithfully in response to electrical signals. As a result, mylar speakers deliver clear, detailed, and well-balanced audio across the frequency spectrum.
Moreover, mylar speakers excel in their energy transfer efficiency. The lightweight nature of the mylar diaphragm allows for quick and responsive movement, translating electrical signals into sound waves with minimal loss or distortion. This efficiency ensures that the original audio signals are faithfully reproduced, providing listeners with an immersive and engaging audio experience.
Mylar speakers are known for their versatility, finding applications in a wide range of audio devices. From headphones and earphones to portable speakers and home theater systems, mylar speakers can be found in various consumer electronics and professional audio equipment. Their ability to handle a broad range of frequencies, from deep bass to crisp treble, makes them suitable for different audio genres and settings.
What's The Difference Between

Mylar

and

Micro Speakers

?
Mylar speakers and micro speakers are two common types of speakers, each with its own set of advantages and disadvantages. Understanding their differences is crucial for choosing the right speaker for specific applications.
Mylar speakers, as mentioned earlier, utilize a mylar diaphragm. These speakers are known for their accurate sound reproduction and are often preferred for high-fidelity audio devices. On the other hand, micro speakers are smaller in size and commonly used in portable electronic devices such as smartphones and tablets. They are designed to be compact and efficient while sacrificing some sound quality.
When deciding between mylar and micro speakers, it's essential to consider the application. If you prioritize audio quality, mylar speakers are the better choice. However, if portability and size are paramount, micro speakers offer a more compact solution.
Mylar Speaker

Sizes and Dimensions
Mylar speakers come in various sizes, with two common sizes being 50mm and 36mm. Each size offers its own advantages and disadvantages, catering to different audio requirements.
50mm mylar speakers are larger in size, allowing for greater sound dispersion and improved bass response. These speakers are commonly found in home theater systems, high-end headphones, and professional audio equipment. With their larger diaphragm, 50mm mylar speakers excel in reproducing low-frequency sounds with depth and richness.
On the other hand, 36mm mylar speakers are smaller and more compact, making them ideal for portable devices like earphones and small speakers. While they may not offer the same level of bass response as their larger counterparts, 36mm mylar speakers provide excellent mid-range and treble performance, ensuring clear and detailed audio reproduction.
Mylar Speaker Manufacturers
Now that we have explored the different aspects of mylar speakers let's shift our focus to mylar speaker manufacturers. One reputable manufacturer in this field is FHD Electronics Corporation.
FHD Electronics Corporation

: Your Trusted Partner in Mylar Speaker Solutions
Mylar speaker manufacturing involves a complex process that requires expertise and precision. FHD Electronics Corporation has established itself as a prominent supplier of mylar speakers, ensuring the highest quality standards are met. With their state-of-the-art facilities and advanced production techniques, FHD Electronics Corporation consistently delivers top-notch mylar speakers to meet the demands of the audio industry.
Choosing the Best: Cost, Quality, Reliability, and Customer Service
Choosing a reliable mylar speaker manufacturer is crucial to ensure product quality and performance. When selecting a mylar speaker supplier, it's important to consider factors such as manufacturing capabilities, customer service, and product range. FHD Electronics Corporation stands out in these aspects. They offer excellent service, assisting customers throughout the entire purchasing process. Additionally, FHD Electronics Corporation provides sufficient storage and repackaging services, ensuring efficient delivery and handling of mylar speakers.
Exceptional Service and Product Excellence:

FHD Electronics Corporation

Sets the Standard
For those seeking a trusted mylar speaker supplier, FHD Electronics Corporation is an excellent choice. Their commitment to quality and customer satisfaction is unmatched. Moreover, FHD Electronics Corporation offers an extensive product line of mylar speakers designed to cater to diverse audio needs. Let's take a look at some of their noteworthy products:
A Comparative Overview of FHD Mylar Speaker Products
FHD Mylar Speaker Model

FHD Speaker Image

Dimensions

Ø x H (mm)

Impedance (

Ω)

Rated Power (W)

Max. Power (W)

S.P.L. (dB)

Resonant Frequency F0 (Hz)

Mylar Speaker in the Market

Other Supplier's Speaker Image

15 x 3.5

8

1.2

1.5

8

6

±3

900

AS01508MR-6-R

Manufacturer: PUI Audio

15 x 11 x 3.0

8

0.8

1.0

94 ±3

550

AS01508AO-SC-WP-R

Manufacturer: PUI Audio

27 x 20 x 7.4

8

1

2.5

82

±3

750

AS02708CO-WR-R

Manufacturer: PUI Audio

50 x 7.8

8

1.5

2

91±3

350

AS05008MR-4-R

Manufacturer: PUI Audio

28 x 5.4

8

1.0

1.5

87±3

580

CLS0281-L152

Manufacturer: CUI Devices

16 x 3.6

8

0.5

0.8

88±3

850

SP-1605

Manufacturer: Soberton Inc.

28 x 5.5

8

2.0

2.5

99±3

550

CMS-28588N-L152

Manufacturer: CUI Devices
Final Thoughts:

Mylar Speakers

– Where Quality Meets Performance
Mylar speakers have revolutionized the audio industry with their exceptional sound quality and versatility. Understanding the nuances between mylar and micro speakers, as well as the advantages of different sizes, allows audiophiles and tech enthusiasts to make informed decisions. When it comes to selecting a mylar speaker manufacturer, FHD Electronics Corporation emerges as a reliable and reputable supplier, offering a wide range of high-quality mylar speakers. You can select the mylar speaker that best suits your requirements right here by exploring FHD Electronics Corporation's product line. Enhance your audio experience with mylar speakers and enjoy the immersive sound they provide.